Avoid turbine failures and increase power production
Preventing wind turbine failures and understanding the health state of core wind turbine parts are essential commercial drivers when managing a wind farm.
With 25+ years of experience, TCM® is a state-of-the-art and secure condition monitoring solution that identifies emerging faults and damages in core wind turbine components.
TCM® empowers owners and operators to predict turbine health and improve operational decisions that help reduce turbine downtime and increase power production – providing site managers and maintenance personnel peace of mind.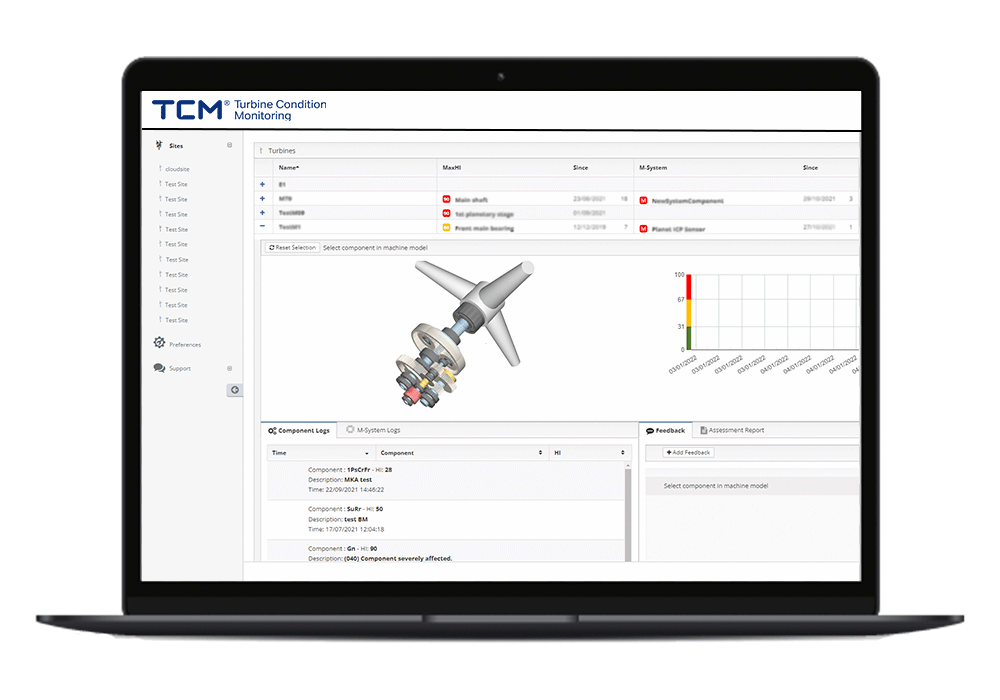 Deployment flexibility
We understand that every business has different IT infrastructure needs and views on operational costs, security, control and scalability. To meet your IT requirements, we offer cloud or on-premise deployment options – allowing you to determine the deployment that works best for your business.
The complete TCM® solution
Designed and developed specifically for wind turbines
Our high-quality vibration sensors are designed to measure every vibration with high precision, whether vibrations occur in the main bearing, gearbox and generator or undesired tower sway, rotor imbalance or tail wag. With their integrated fast-shock recovery, you will never miss a vibration signal.
Monitor over 50% of failing wind turbine parts
The TCM® solution ensures your wind turbines' uptime by detecting early failures of cost-intensive parts in each wind turbine, including the drive train, gearbox, generator, main bearing and much more.
TCM® monitors over 50% of failing wind turbine parts, reducing the annual downtime for wind turbines. By receiving condition-based information for each wind turbine part, you can plan repairs and maintenance and drive down the cost of energy.
Condition monitoring equipment built for all weather conditions
Our equipment and hardware enable you to drive an effective condition-based maintenance strategy. Designed specifically for the wind industry, the equipment included in your TCM® solution consists of high-quality vibration sensors (IEPE standards).
Our advanced sensors endure the harsh weather conditions in offshore environments and the rough land surfaces with changing heat capacity in onshore environments. Most importantly, our equipment is built to last.
With our fast-shock recovery feature, you will never miss a vibration signal.
Protection against cyber-attacks
Condition monitoring systems are a core part of your wind turbine's operational technology (OT), and our cyber security design protects your entire TCM® solution end-to-end.
Our carefully developed security setup ensures you can securely manage the OT zone from the IT zone remotely. TCM® is developed with core OT design principles, including:
Zero Trust security approach
Purdue model for ICS security
Cisco principle – only initiating communication from a more secure zone to a less secure zone
TCM® enables compliance according to NERC CIP, IEC62443, NIST and NIS2, allowing you to enhance your IT and OT infrastructure and prevent cyber-attacks from interrupting your energy production and damaging physical components.
Powerful diagnostics tool, supporting your O&M workflow
A core feature of TCM® is its ability to diagnose and predict the maintenance of core wind turbine components. There are no limits to how you can process the vibration data from your wind turbine fleet.
Our diagnostics tool provides you with a powerful analysis engine ideal for data mining, machine-modelling, and much more, supporting the accuracy of your monitoring and maintenance workflows.
Experience TCM®
Get a free TCM® product demo
Learn how TCM® can help you avoid wind turbine failures, reduce downtime and save time and money on your operations & maintenance.